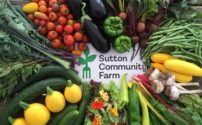 Join Sutton Community Farm's annual harvest celebration where we celebrate all the vegetable abundance of the growing season and all the hard work that has gone into the farm this year.
Our annual Harvest Festival for 2019 will be on Saturday 7th September from 11am – 4pm.
A fun day out for all the family, we will have:
– Games and activities, farm tours, collective harvesting
– Live music and local stall holders
– Wood-fired pizza from our oven, Sutton Farm veg salad bar, as well as other tasty food from our restaurant partners
– A celebratory display of all our vegetables and an opportunity to find out more about our VegBox delivery service
Our Harvest Festival is a great chance to meet the volunteers and staff who make up the collective farming team, so we look forward to welcoming you! It is also an opportunity to come and have a look around and get a better understanding of how we produce food.
We are charging adults a small fee for entrance in order to help cover costs, so to attend please book a ticket before coming. Adults are £3, under 18s are free.
Car parking is very limited, so please consider coming by public transport, bicycle or on foot if you can. If you do intend to drive please book a parking ticket so that we can plan accordingly.
Book tickets via Eventbrite