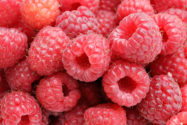 Our raspberry patch needs relocating! Later this year we are building a new barn and there are lots of raspberry plants currently situated in the place where it is going to built. As such we need to dig them up and move them to another part of the farm. This work needs to be done in the winter while the plants are seasonally dormant, so that any relocated plants will still give us fruit this year – oh the joys of perennial crops.
Come along to the farm on Sunday 3rd March and get stuck in – it's all hands on deck. Volunteering will be between 10am – 4pm, and we will provide you with lots of refreshments and snacks to keep you going. If you can't commit for the whole day but would like to pop by even for an hour or two we would still love to have you.
Volunteering outside in the fields at this time of year provides a great opportunity to get fresh air, using your body and working in a team to achieve something that will benefit visitors and volunteers to the farm for years to come. Improved mental and physical well-being are an added bonus 🙂
Please email sonia@suttoncommunityfarm.org.uk if you can make it, your local community veg farm needs you!