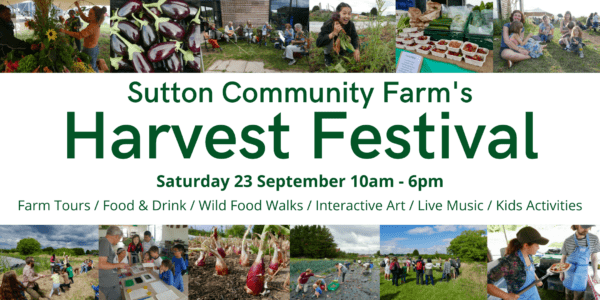 Farm Tours / Food & Drink / Wild Food Walks / Interactive Art / Live Music / Kids Activities
Sutton Community Farm's annual Harvest Festival is happening on Saturday 23 September from 10am – 6pm, and it will be fun for all the family!
Join us to celebrate this year's veg harvest, join a farm tour, eat delicious food, go on a wild food walk, harvest beetroot, make something with clay, listen to live music, play games, dig into our compost disco, and enjoy being on our lovely community fruit and veg farm in Wallington, Sutton.
There will be covered seating areas, with plenty of opportunity to enjoy time on the farm. You can find out more about our online farm shop and volunteering opportunities, while being warmly welcomed by staff and volunteers from our farm community.
Activities
1 hour timed farm tours with a member of the Growing Team, learning about food growing and biodiversity on the farm (best enjoyed by those aged 12 and older)
Harvesting 12pm – 4pm
Compost Disco 11.30am – 4.30pm
Games at 12pm, 1.30pm, 3pm and 5pm
Wild Food Walks at 11.30am, 12.30pm, 2.30pm and 3.30pm
Art Workshops (making things with clay) at 11.30am, 12.30pm, 2.30pm and 3.30pm
Food & Drink
Wood-fired pizza
BBQ veg and halloumi wraps
Freshly made salads
Yummy cakes
Hot and cold drinks
Beer and cider
Fruit and veg from our farm shop stall
Please note, we only take card payments and won't accept cash
Book Tickets
For more info and to book tickets, visit our Eventbrite: https://harvest-festival-2023.eventbrite.co.uk