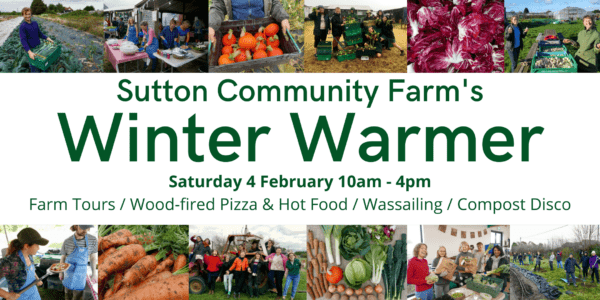 Come to Sutton Community Farm's Winter Warmer on Saturday 4 February from 10am – 4pm for a seasonal celebration on our farm that is fun for all the family
Farm Tours
Join an engaging, fun and informative tour of the whole farm, learn how we grow food, understand key principles in organic horticulture, and appreciate seasonality by seeing what is growing in the depths of winter!
Best enjoyed by adults and children aged 12 and older (for younger children we provide treasure hunt guides)
Each tour is 45 minutes, there are 12 tours scheduled throughout the day
Food & Drink
An array of different food and drinks will be on sale during the event, including:
Tasty wood-fired pizza
Seasonal, organic and delicious hot food using farm ingredients
Cakes baked by farm volunteers
Hot and cold drinks
Payment by card only, we will not be accepting cash
Wassailing
Over 60 new fruit trees have been planted on our farm this winter, establishing agroforestry (the practice of integrating trees within food production areas)
Wassailing is a traditional custom of serenading fruit trees to encourage fruitful harvests for the upcoming year
We invite you to join us to sing and celebrate our new trees!
The first wassail will happen at 12.30pm, the second wassail will happen at 3.30pm
Other Activities
Compost Disco: get stuck in and try your hand at turning our compost – kids love it!
Arts table for children, sheltered inside our barn
VegBox stall to find out more information about our online farm shop
Meet farm volunteers and staff, find out how to get involved
Indoor and outdoor seating, enjoy time relaxing on our lovely farm
Tickets
If you would like to attend a tour, please book a £5 ticket for adults and children aged 12 and older. Your ticket is for a specific tour, please arrive to the farm at least 10 minutes before your tour starts.
We are also offering discounted tickets (£2) for people who are unemployed, underemployed or receive benefits. Use promo code "Discount" when selecting your tickets.
Children aged 11 and younger are free, no need to book.
If you would like to attend the event but not attend a tour, you can just show up!