It's time for another update on the barn as we now have a watertight building!
Background
We are building a new barn, to be our Veg Box packing space, and community space at the farm. It will really improve our packing and volunteer facilities, and is needed more than ever with the increase in Veg Box orders we have seen during the pandemic. The project has been generously funded by members of the farm, match funding from Power to Change, and grant funding from The James Trust, Sutton Community Fund, Beddington Community Fund, Elizabeth Creak Charitable Trust, Frank Litchfield Charitable Trust and Rowan Bentall Trust.
Watertight Building Complete
Ascot's package has gone very smoothly and they have finished on Friday, as expected. Our architect, Hannah Dixon, has been very impressed with the quality of the construction which is great to hear and reassures us the building will stand the test of time. In addition, their team have been very professional and there has been minimal disruption to our usual farm work.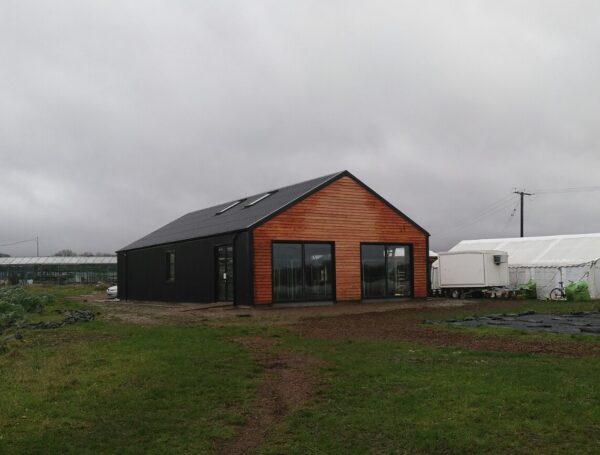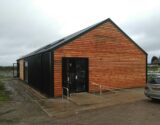 Internal work
Now it's just the inside work! Originally, we intended save money by carrying out insulation, plastering and painting work ourselves with the help of volunteers. We have instead decided to appoint a contractor, Hudson Cook to do all this work. It makes sense now, since Covid reduces our ability to work with volunteers in a safe way, staff capacity is more limited than expected, and we will be able to move in quicker. It will be about £15k more expensive, but we can justify that as we haven't yet spent any of our contingency budget for the project and the farm has benefitted from increased VegBox sales this year. This internal work will start next week and should be completed by the middle of February, when we can move in!
Colour Options
It's a shame that we can't involve members and volunteers in the actual building process, but we will be getting input on colour and fixtures and fittings. There are 3 areas of timber cladding on the building. We can paint these areas Sunshine Yellow or Labrador Blue for a bold, contemporary finish. Or we can leave the timber unpainted; it will weather over time to a silvery grey colour.
We are asking all members and volunteers to vote for their favourite option! If you are a member, or a recent volunteer, you should have received an email with a link to the survey. Please get in touch if you missed it and want to vote!