Well it's that time of year again! The 2017 sowing schedule is underway and the cropping calendar is about to be pasted all over the VegShed walls… it seems like a great opportunity to reflect on my experiences as farm apprentice for the last year and a half.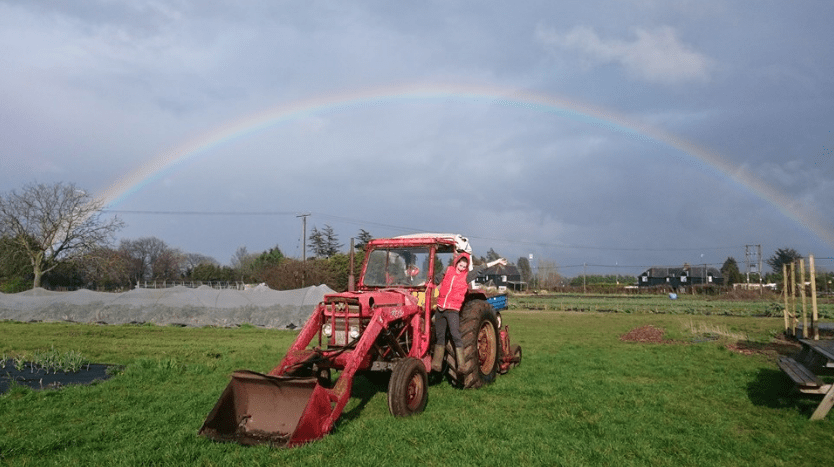 The Growing Apprentice is an integral part of the farm's framework. Both practically and ideologically, this role is key in achieving part of the farm's mission: to inspire people to engage with an alternative, sustainable food system by increasing their access to local food through production. The position aims to address the severe and shocking lack of farmers in the UK by providing a fairly paid opportunity for beginner growers to build on skills on a slightly larger scale.
Sutton Community Farm's apprentice scheme has some key differences with others offered in and around London, and indeed the UK. Firstly, the length of the role spans two summer seasons with a crucial winter of planning in between. I found this extremely helpful as a way of properly getting to grips with the extensive planning involved on our 7.1 acre site. The initial summer was a whirlwind of fairly clueless hard graft, trying to keep up with Charlotte, original Growing Apprentice and current General Manager and Joris, Head of Production (collectively having 8 years experience in the field), all the while attempting to absorb as much as possible for the year ahead. Winter time was when everything started to make sense. Once the 2-tonne harvest of squash was all brought in, it marked the time to sit down and get our head round the intricacies of our three main crop rotations. Along with an increased consumption of tea and crumpets, a detailed seed audit, discovering the geeky joy of seed catalogues and seeing to all the maintenance tasks on site that had been pushed aside to make way for more pressing summer jobs, a surprisingly busy winter was rushing by. Many of my friends and family are still confused at what I could possibly have been doing during those dark, bleak months.
Secondly, our apprentices are paid London Living Wage. With many community food projects only being able to pay in surplus veggies, this really sets us apart. Another core part of wanting to change a broken system is considering how to attract new entrant farmers in the first place. It is a common and somewhat contentious subject but if these expenses aren't factored in from the beginning then they can rapidly get left behind and forgotten about. If we want to change our food culture, how can we expect people to work entirely for free? It also allows a more diverse range of people to apply and not just those potentially privileged enough to survive life in London with an unpaid job.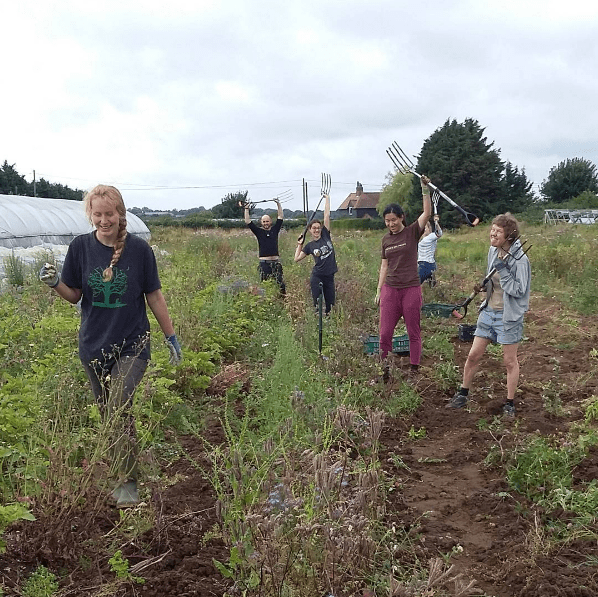 The early sowing of our beloved Florence Long onions marked the beginning of my first full year as a small-scale farmer and the pressure was on to build on everything I had learned the year before. The time had come to take a lead on decisions and build up my confidence with Joris providing background support and steering me away from any major mistakes (inevitably mistakes were made but this was all part of the valuable learning experience… ).
A relentlessly wet spring pushed my life-long vegetarianism to new extremes – taking to miserable morning massacres of record-breaking slug populations! It took a while before resorting to the scissors but after a collective eight beds worth of destruction, it sadly felt necessary… . Once the clouds cleared and the soil firmed up I was finally able to jump onto Rosa, our rusty Massy Ferguson and put my juvenile tractor skills to work. I developed my skills clearing beds, spreading compost and practiced tilling and rotavating.
During the 18 months I fostered an extensive skill set ranging from typical farm jobs like setting up irrigation systems, organic pest control and the many others associated with growing over 150 cultivars of vegetable! The myriad of other tasks included: community engagement, tractor maintenance, event organising, volunteer co-ordination, farm tours, infrastructural improvements, co-ordinating restaurant sales, making (and changing!) decisions by the hundred, and even a day or two of plumbing! Trial ventures such as mushroom and hop production have also been an exciting addition to my experience. With such a small team it's important to be flexible and willing to get stuck in wherever needed and as a result, I have been exposed to many of the challenges and successes involved with running such a multi-faceted social enterprise. I was involved in packing and distributing veg bags as well as participating in sales training and becoming a trained cook club tutor, delivering healthy cook club sessions at the farm and in local schools. So versatility and enthusiasm is vital!
Organisational skills are also essential for this role and although this was a massive step up from my previous growing job, I have been blessed (or damned) with a list-making obsession. Regular close observations and record-keeping of all kinds should be part of the daily routine. Inevitably not everything on the 'to do' list will get done but doing your best to keep on top of as much as possible is key, especially as you will have to communicate progress to many others using the farm!
As well as being highly organised, future applicants should be aware this is not for the faint-hearted! Highlights included harvesting kale with numb hands in the pouring rain, lugging around 50m-long hose-pipe, planting out cucumbers in 45°C polytunnel heat and spreading compost for hours on end. Yes, at times it is challenging, laborious work but it certainly leaves you feeling fit and energised, unlike many of my peers' stale office jobs. And working outside is definitely something I've loved! When you reach peak harvest time, its incredibly rewarding seeing, and tasting, what everyone's efforts have amounted to. With the harvest festival display bursting with incredible colours, flavours and smells, the memories of toil seem to fade away.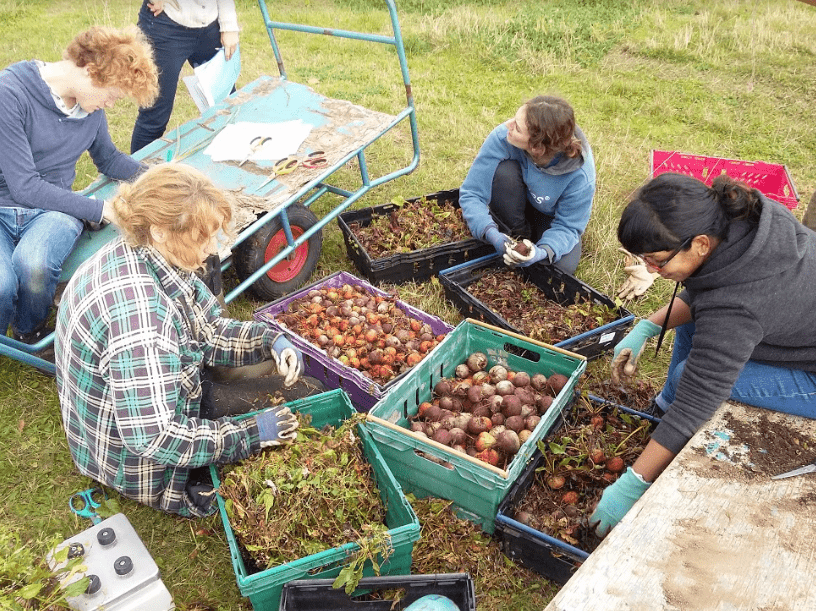 Besides, the workload is very much a shared challenge! At the heart of Sutton Community Farm is indeed its community members, a significant number of whom are dedicated volunteers – and some have been involved since day one back in 2010. I've regularly come back from the field to find a room of cackling volunteers speedily packing the veg bags. Working with hundreds of different people over my time as apprentice has been a definite highlight. Bundling into the VegShed to slurp up a delicious bowl of soup (or two) after a solid mornings work is a staple activity on volunteer Wednesdays. As well as the loyal regulars, I have co-ordinated many local school visits and facilitated team volunteering days with corporate groups too, a chance to educate people about the possibilities of UK food production and the positive impact of projects like ours! Working closely with a diverse number of people is at the core of this community-owned business and will be a major aspect of the apprenticeship.
As well as my time learning at SCF, the farm supported other 'extra-curricular' learning ventures. Studying the Level 2 Extended Certificate in Horticulture at Organiclea in Chingford has enabled me to add a theoretical framework to my practical experience at Sutton and I highly recommend the cohesion of the two. As well as 2 years at the Real Oxford Farming Conference, I was able to have an exchange visit with apprentices at Keats Community Organics, a visit to Tolhurst Organics and attended the LWA's 'Matter of Scale' gathering at Monkton Wyld last Autumn. These were all hugely valuable in expanding my knowledge of different crops and farming techniques but also really helped me to feel a part of a wider network of new entrant small-scale farmers, igniting the feeling of being involved in a hugely important social, environmental and political movement.
Overall my time as Growing Apprentice has been a hugely enjoyable, rewarding and inspiring experience. I have learnt so much and had the pleasure of sharing my time with so many marvellous people! I highly recommend any food and farming enthusiasts to apply or at the very least continue to involve themselves in the sustainable farming movement at a time when it's more necessary than ever.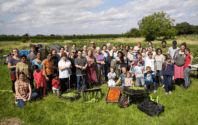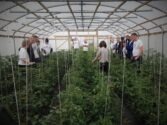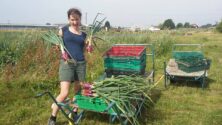 You can apply here: http://suttoncommunityfarm.org.uk/about-us-sutton-community-farm/jobs-at-suttoncommunityfarm/