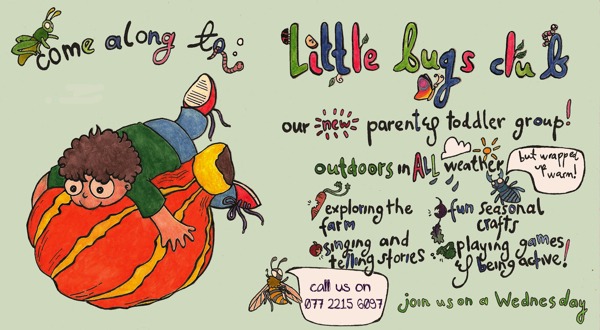 Update: August 2013
Ruth will be taking a break in August from the Little Bugs Club for holiday and will continue in September. Happy holidays!
——-
Little Bugs Club is an outdoor growing club for parents and toddlers. Our two-hour sessions are all based around seasonal, farm-related activities such as seed sowing and plant care, harvesting, weeding and exploring nature. We also hunt for bugs, make things with natural materials and sing songs and play games to provide supported learning through play.
Keeping warm and dry
We feel that it is just as important for the children to experience the rain and wind as lovely sunshine but it is essential they are comfortable. We will do lots of energetic activities to keep warm but dressing your child in a number of warm layers and finishing with a hat (covering ears) and waterproof shoes (wellies) will help them to get the most from their time here.
Snacks
The children will be given a healthy, organic snack (such as carrot sticks, apple chunks, bread sticks etc) as part of each session. Where possible this will be seasonal and sometimes relating to that session's theme.
Structure of sessions
Hello song and signing in:    9:30 – 9:35
Farm activities:    9.35 – 10:20
Snack time:    10:20 – 10:40
Farm activities:    10:40 – 11:25
Goodbye song:    11:25 – 11:30
Safety
There are First Aiders on site and the site has been risk assessed for this activity. Any particular potential hazards will be pointed out by session leaders.
When?
Wednesdays 9.30am-11.30am
We meet near the walnut tree in the middle of the farm. For details on how to get to the farm click here.
Contact
To book a place or for more information email info@suttoncommunityfarm.org.uk or call 07722156097.
Pricing
We run this club on a donations basis. The suggested contribution is £7 for a two-hour session with seasonal snacks and drinks.