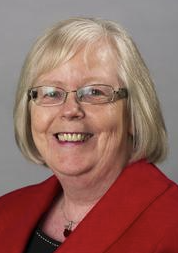 Marian's background is in social care working with a diverse range of client groups. She has worked in both the statutory and voluntary sector with young people and adults. She has lived and worked in the London Borough of Sutton for over 20 years and has a good knowledge of the voluntary and community sector. She has been instrumental in setting up new organisations and developing innovative services. Marian is a trustee of the James Trust, who recently granted the farm funds to support working with young people with learning disabilities. Having recently retired, Marian is now a local councillor with a keen interest in Social Services, local communities, and the voluntary sector.
Marian also has a keen interest in food and believes that the farm enables people to not only learn about food, but to come together as a community and celebrate diversity, community cohesion, different skills and experiences. Food is a huge part of life – we have people struggling, having to use food banks, we have children who are obese, elderly people who are malnourished and young people who have limited cooking skills. Marian sees the farm as being able to become a key player in addressing some of these issues.
Marian joined the Management Committee in August 2017. In accordance with the Rules, as an elected member, Marian's term of office ends at the conclusion of her third AMM which will be in 2020.