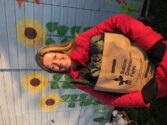 Kate joined the farm as a volunteer in February 2020 helping to pack our VegBoxes. When the coronavirus pandemic hit the country a month later, the demand for VegBox rocketed and Kate was hired as temporary cover for the coordination of the VegBox packing process.
In December 2020 Kate joined as a permanent member of staff working one day a week so she can balance family life and her other job working for a company who provide guardianship services for international students. On her farm day she manages the logistics of deliveries received at the farm and the weighing of veg portions through a dedicated team of 20+ loyal volunteers.
This is Kate's first experience working in the farming and public enterprise sectors. Following a career in Human Resource Management and a lifelong passion for food, she finds her role at the farm perfect for utilising her organisational and people management skills at the same time as working with all the lovely veg!
On a personal level Kate values strongly the farm's ethos for education and its provision of opportunities for members of the community with learning disabilities.