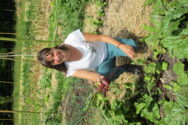 Juliette is a social researcher with 15 years' experience of conducting research and evaluations for charities and community organisations. She specialises in helping organisations to better understand mental health and well-being, inequality and complex disadvantage, and community empowerment – and to bring about improvements for people.
She has supported many organisations to develop theories of change and evaluate the impact of their work. These include People's Health Trust (the charity that distributes funds raised through the Health Lottery), Fulfilling Lives South East (a programme aiming to change systems for people experiencing complex disadvantage), and Wandsworth Community Empowerment Network. Juliette did a growing traineeship at Tolhurst Organic, and was a volunteer grower at the organic farm in a mindfulness practice centre in France for 18 months. She would love to start her own therapeutic growing project one day!
Juliette joined the farm's Management Committee in the autumn of 2020, and she is helping the farm to integrate impact management into its work.