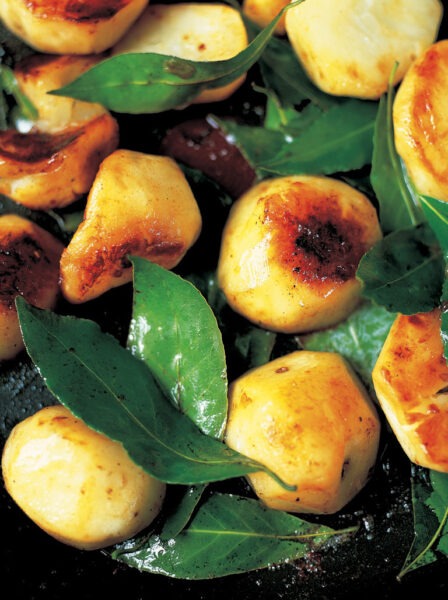 Our Small VegBags this week will have Jerusalem Artichokes – importantly, these are not those green, petalled globe artichokes but the confusingly similar-sounding root veg. This tuber has its knockers, mostly I suspect because many people aren't sure what to do with them, but its subtle, nutty flavour is really worth exploring. Here's a simple, tempting recipe from Jamie Oliver.
Scroll down below the photograph.
Ingredients
600 g Jerusalem artichokes
olive oil
a few bay leaves
2 cloves garlic
1 splash white wine vinegar
salt
pepper
Method
To serve 4, you will need 600g/1lb 6oz of Jerusalem artichokes. Peel them, then cut them into chunks. Place them in an oiled frying pan and fry on a medium heat until golden on both sides, then add a few bay leaves, 2 cloves of garlic, finely sliced, a splash of white wine vinegar, some salt and pepper, and place a lid on top. After about 20 to 25 minutes they will have softened up nicely and you can remove the lid and the bay leaves. Continue cooking for a couple of minutes to crisp the artichoke slices up one last time, then serve straight away.
Alternatively…
You can scrub and roast them whole like mini jacket potatoes and split them open, drizzled with a little chilli oil. A Jerusalem artichoke's best friends are sage, thyme, butter, bacon, bay, cream, breadcrumbs, cheese and anything smoked.
Recipe and photo from JamieOliver.com