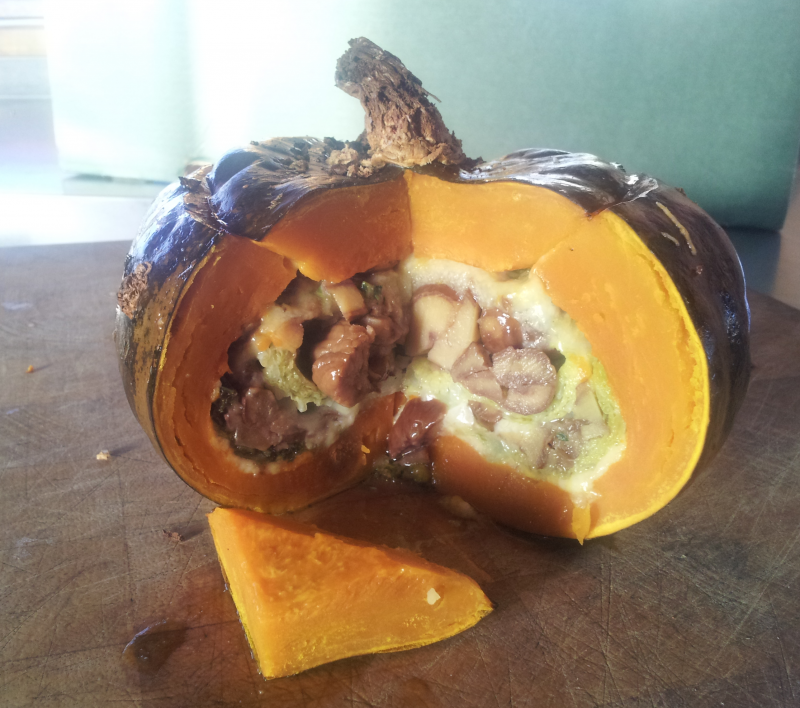 This recipe combines the richness of ripe squash with chestnuts, reminiscent of Grandfather's stuffing, tempered by the lightness of the lemon rind, Manchego and thyme, giving the dish a rounded full flavour. As an alternative to thyme, sage pairs well with the earthy flavour. Chestnuts can be a bit of a faff to prepare – we're not above sourcing the pre-cooked and peeled vac-packed kind!
Serves: 2 as a main, 8 as a beautiful Christmas dinner accompaniment
Prep & Cooking: 1 – 1½ hours, depending on squash size
Ingredients: (per person)
squash
cabbage leaves (savoy, if you have it, otherwise any cabbage will do)
chestnuts
Manchego cheese
herbs
lemon
From the cupboard and the fridge:
olive oil
salt and pepper
Method:
Pierce the chestnuts with a fork or sharp knife, place them in a heavy frying pan on a low heat. Check them regularly and turn occasionally. They will be soft when cooked through. Remove the hard outer shell and as much of the papery lining as possible.
Peel whole leaves of cabbage and blanch them in salty water. Carefully cut a lid off the squash, scoop out the seeds and prick the flesh with a fork. Remove thyme leaves or slice sage and mix with lemon juice, grated lemon zest, pepper and olive oil to make a dressing. Grate the Manchego.
For smaller squash, cover the flesh with some dressing. Mix together whole chestnuts, sliced cooked cabbage leaf dressing and Manchego cheese. Stuff the squash, put the lid on and bake at

180

° for 30-60 minutes until the flesh is soft to the touch. For larger squash, dress the flesh, and separately dress the cabbage leaves. Encrust the inside of the squash with some Manchego, then layer in whole cabbage leaves, sliced chestnuts and more cheese until it's really well-packed and full. Put the lid on and bake at

180

° for 45-90 minutes until the flesh is soft to the touch.
Recipe design by Joris.