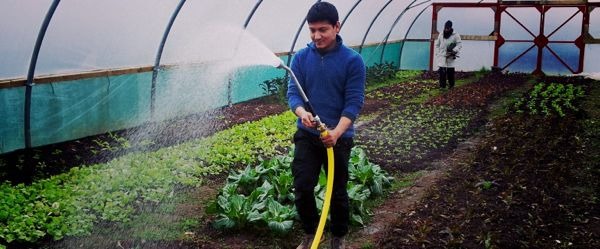 Our Sustainable Farming Assistant Programme enables volunteers to have a structured, practical experience, learning the basic principles of organic farming over a six-month period. It's a great way to skill-up and gain experience in growing. This document gives you an overview of the skills you will develop. In 2015, we had six participants. We are currently recruiting Sustainable Farming Assistants for the 2016 growing season. 
Sustainable Farming Assistants are offered the opportunity to get involved in all stages of crop production on the farm, as well as other projects relating to the development of the space. Working alongside us you can learn about propagation, planting, care and maintenance, harvesting, grading and packing. Additionally you will have opportunities to take part in soil preparation and management, composting, green manuring, pest and disease management and irrigation. There will be an informal programme of practical learning based on being out there in the fields and polytunnels and getting your hands dirty! We look for a commitment of at least one day per week, for six months. Sustainable Farming Assistants are welcome to a share of the harvest where possible.
Please contact Joris Gunawardena (joris@suttoncommunityfarm.org.uk) with a brief covering letter explaining why this opportunity would suit you by 5pm on Monday, 11th April. The programme will begin with an induction day in late April.