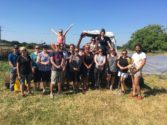 UPDATE – SPRING 2021:
We are not currently accepting any bookings for Team Challenge Days in 2021.
————————–
What does a Team Challenge Day look like?
The day starts with a farm tour, giving you an overview of our project and the work we do. Then it's down to action. Activities vary depending on the season, weather and priorities. They are designed to be enjoyable, educational and inspiring, centred around horticulture and healthy eating. All activities are facilitated by an experienced leader.
Most groups help out with our food production. There is also site maintenance and improvement activities that helps make our farm a warmer, more welcoming space to the public. Examples of growing activities include sowing seeds, clearing beds, mulching vegetables, building polytunnels and composting.
Check out a time-lapse video of a Team Challenge Day from autumn 2018: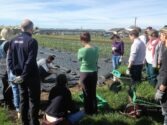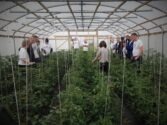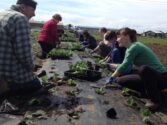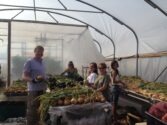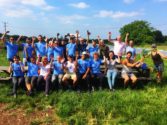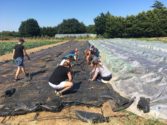 How many people can come?
We can comfortably accommodate groups up to 50 volunteers. We can also support larger groups, please contact us to discuss your requirements.
Is there a cost?
From £35 per head with a minimum charge of £350 for the day to cover costs. This charge helps cover our staff time and materials. Half day activities and weekend opportunities can also be arranged.
Do we provide refreshments?
Tea, coffee and biscuits are provided, with lunch an additional extra. We typically offer a delicious vegetarian organic soup made from local veg, or we can fire up our cob pizza oven and provide all-you-can-eat pizza using fresh seasonal ingredients from the farm.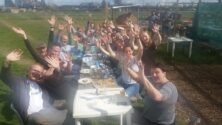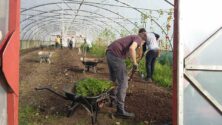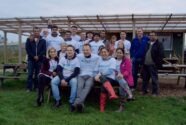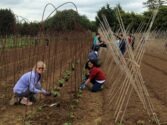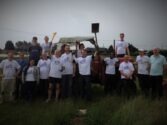 Who else has come to the farm?
We've hosting many groups to our farm and always have excellent feedback. We've welcomed groups from Google, AIG, UK Power Networks, Lloyds Bank, Sutton Council, Coca-Cola, Royal College of Nursing and Reed Business Information.
How you're supporting our farm
Due to the busy nature of farm life there are a never-ending number of jobs which are sometimes deprioritised and often left undone. With the help of larger group volunteer days we are able to complete huge tasks that would otherwise take a lot longer. A group of motivated helpers can blitz a job whilst enjoying the satisfaction of a day's physical work in the fresh air! With your help we can transform whole areas of the site into welcoming, more attractive, productive, safer spaces for the community.
As Sutton Community Farm is a non-profit organisation, your contributions will help cover staff and material costs and any excess will be put back into aiding the fantastic work we do for the community around us. This includes: delivering fresh, local vegetables; educating and engaging our huge volunteer base; providing an invaluable space for people to join in, get fit, get inspired and meet others; welcoming pupils and students of all ages to come and learn about sustainable food and improve their job prospects through work experience; and hosting courses and events throughout the year. Our farm benefits people and planet and we welcome you to come and be a part of it!
What to bring on the day?
Volunteers will receive a trip briefing in advance of their visit, advising them what to bring. Volunteers should wear good footwear. Wellies, walking boots or steel capped boots are recommended. If volunteers have their own gardening gloves, we ask them to bring them along. If it's a sunny day, we also recommend volunteers bring appropriate sun protection and a water bottle.
Further information and booking
We are not taking any bookings for the remainder of 2021, we will review our capacity in 2022.