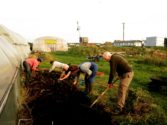 The aim of our Buddy Volunteering Programme is to help us maintain a supportive, welcoming and safe space at the farm. As a Buddy, you will play an important role in helping to support fellow volunteers. This programme is for volunteers who are interested in supporting volunteers who might have physical disabilities, mental health problems, learning disabilities, or those who may just need a little extra support. Buddies help run practical activities and are available to volunteers who need extra guidance or help with settling in and getting to know the farm.
We are currently experiencing a high volume of referrals but cannot accommodate as many people as we'd like to. Thanks to London Community Foundation/ Comic Relief and City Bridge Trust, we are able to offer this training for free to help enable us to boost numbers of Buddy Volunteers, increasing our ability to help vulnerable people in our community.
How do I become a Buddy Volunteer?
If you have good people skills and you'd like to support people to get involved at our farm, we'd like to hear from you. Prospective Buddies usually begin by attending as regular volunteers, getting to know us and learning how the farm works.
To become a Buddy Volunteer, you need to:
Fill out this application form
Contact us and introduce yourself: Please email sonia@suttoncommunityfarm.org.uk. We recommend coming to visit the farm and volunteering a few times to get to know the farm.
Attend training session: This includes an overview of our approach and activities, an introduction to social and therapeutic horticulture and health and safety.
What's the commitment?
We are looking for our Buddy Volunteers to commit to a minimum of 1 volunteering session per month, either on Wednesdays or on our Open Saturdays (usually the 2nd and 4th Saturday of the month during the height of the growing season).
Why become a Buddy Volunteer?
This programme helps volunteers improve their communication skills and gain experience working in community farming and social care settings. We have developed a training programme based on the success of another community food project and have received a grant from Team London to support the training of our first set of Buddy Volunteers.
Further information
Click here to download a short information sheet about Buddy Volunteering.
Training dates
Please contact us if you are interested in Buddy Training. Email sonia@suttoncommunityfarm.org.uk