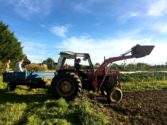 We are delighted to announce this event, in partnership with Free Range Cooks and Chimney Fire Coffee.
Sunday 11th August 9am – 1pm 
Delicious seasonal brunch with straight-from-the-farm produce; sumptuous coffee tasting and talk, plus a tour of Sutton Community Farm.
Find out more and book your ticket here. 
As our guest you will receive a guided tour of the beautiful Sutton Community Farm to find out about the work they do to generate fresh, healthy, sustainable food while providing a shared space for people to cultivate skills, get exercise and make new friends.
Next you'll be treated to brunch cooked by Richard of Free Range Cooks, using gorgeous seasonal produce sourced straight from the farm.
After brunch, we'll finish with a coffee tasting with Dan from Chimney Fire Coffee to learn all about his work and the delicious coffee he produces.
O N  T H E  M E N U

* Organic yogurt pots with local honey, oats and a raspberry, rhubarb and nasturtium compote.
* Blackbird bakery toasted sourdough topped with roasted farm tomatoes, Turkish style aubergine and local goats cheese.
* Farm vegetable and potato frittata made with veg box eggs, topped with Sutton community farm mixed leaves, roasted pepper and a herb dressing.
* Lots of delicious coffee!