THIS WORKSHOP IS NOW FULLY BOOKED – Please email Sonia if you would like to go on the waiting list (sonia@suttoncommunityfarm.org.uk)
Come t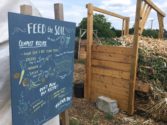 o Sutton Community Farm on Saturday 10th November from 10am – 1pm to learn all about soil, the soil food web and home composting systems.
Composting expert Paul Richens will lead the workshop, which has been designed to encourage and inspire those wishing to improve their home composting know-how. Come along to discover why composting is absolutely key to creating healthy soil to produce food and flowers through building soil fertility,  reducing waste and saving you money!
This workshop is suitable for both those already composting or those wishing to compost. Whether you have access to a balcony, back garden or community garden, a range of techniques will be discussed with plenty of opportunity to ask questions and engage in discussion.
This workshop is being funded by the Postcode Local Trust and Sutton Neighbourhood Grants, and is the fourth and final in a series of composting workshops taking place throughout 2018. We've had really excellent feedback from previous attendees of the same workshop held earlier in the year.
For more information, please email sonia@suttoncommunityfarm.org.uk