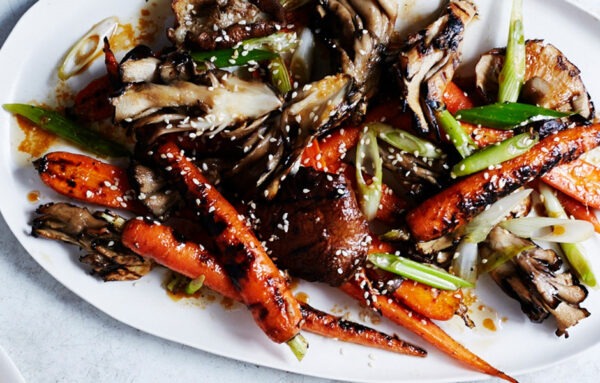 Whether they're grilled, glazed, stir-fried or tarted up, there are plenty of ways to use this week's staples deliciously, so we thought we'd spoil you for choice:
Roasted carrots and mushrooms: Toss 1 1/2 pounds sliced carrots, 10 ounces halved cremini mushrooms, 1/4 cup olive oil, 2 smashed garlic cloves, 3 sprigs thyme, 3/4 teaspoon each caraway seeds and kosher salt, and 1/4 teaspoon hot paprika. Roast at 450 degrees F until tender, stirring once, for 30 minutes. Drizzle with lemon juice, sour cream, parsley and more paprika.
Gratin of carrot and mushroom: With shallots, parmesan, parsley and lemon juice.
Grilled mushrooms and carrots with sesame: The nutty, woodsy mushrooms play up the sweetness of the carrots, and the dressing is great on pretty much everything.
Carrot and mushroom stir-fry: In a skillet over medium heat, stir-fry carrots in butter if desired and oil for seven minutes. Add mushrooms and onions; cook and stir for 4-6 minutes or until vegetables are tender. Stir in lemon juice, salt if desired and pepper. Makes 7 servings.
Golden-glazed carrot, mushroom and hazelnut tart: Vegetarian guests? This individual puff pastry pie makes the perfect, stress-free offering.
Picture from Bonappetit.com.