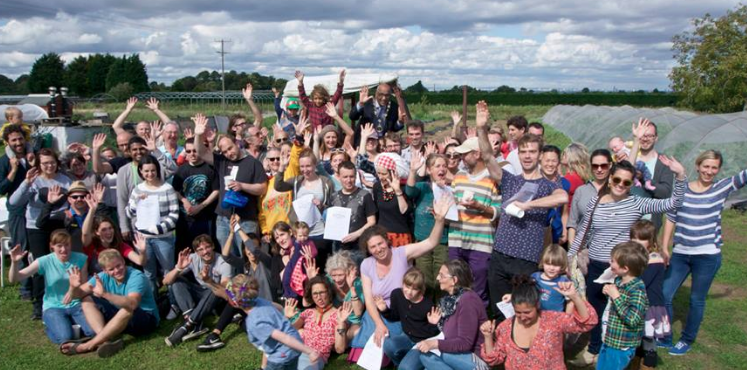 Need a print out? Click here for a downloadable document "About our farm".
Sutton Community Farm is a community-owned farm. We started in 2010 in response to a community need with the purpose to increase access to fresh, healthy, sustainable food and provide a shared space for people to cultivate skills, get exercise and make new friends. Our farm sits on a beautiful 7.1 acre smallholding with views towards the skyline of central London.
Our aims
1. To increase local food supply, grown sustainably;
2. To create inclusive, shared spaces for the community to cultivate skills;
3. To be community led;
4. To achieve economic stability, supporting land-based employment.
Here's a video that shows what our farm's like:
Our values
We aim to be transparent, professional, democratic, inclusive, passionate, collaborative, innovative, inspiring, fun, pragmatic, promote equality and demonstrate leadership.
A potted history
We started a farm because people wanted to see more fresh, local food in our community. Following consultation with residents in Hackbridge, Anna Francis and Seeta Rajani from environmental charity BioRegional started looking for land. With help from local charity EcoLocal, we found a patch of unused land and invited people to come and help out. The project grew slowly as we developed our skills, gathered equipment, raised funds and understood the land and our place in the community.
To read a more detailed history, please click here. For a brief history about Little Woodcote Estate, please click here.
The people
Sutton Community Farm employs a small team that is supported by a large network of volunteers. Volunteers are at the heart of our farm: we strive to be an inclusive space for the community, shaped by the community. People come to the the farm to share their skills, take a break from the office, or simply because they love wholesome, local food. So far we've welcomed more than 3,000 volunteers.
We are registered as a Community Benefit Society. This structure reflects our community-led ethos. To find out more, please visit our Buy a Share section. If you want to get involved in the farm, please click here.
Accessibility and inclusiveness
We aim to make Sutton Community Farm accessible to as wide a range of the public as possible and are committed to ensuring that everyone is treated fairly. You can find out more by reading our Equal Opportunities Policy.
We continue to design site improvements for better accessibility and inclusiveness. We cater for many volunteers and do everything we can to ensure there are varied, interesting and meaningful opportunities for people. We are thankful to all our volunteers for their patience as we learn to operate and succeed as a working farm.
Our business plan
We aim to be an inspiring model of community small-scale farming – demonstrating exemplary environmental, social and economic viability. Balancing these motivations brings many opportunities as well as challenges to the economics of our business plan, which must be robust to operate within such a competitive marketplace.
Although we accept donations and seek funding opportunities for new projects, we do not wish to rely on funding. We are making good progress towards self-sufficiency and are learning a lot along the way. We feel this progress is important to share and therefore we welcome people to ask questions, conduct research, and share our work online and through local events and talks.
Our business plan is publicly viewable here: bit.ly/SCF_Business_Plan. This is a live document that is updated periodically.
Our land
We have a 7.1 acre smallholding, positioned on the Woodcote Smallholdings near Wallington. We lease this land from Surrey County Council.
What people say
People say the most lovely things about our farm and the work we do. We've collected a sample of these quotes you can read here.